San Vicente Reservoir, San Diego County, CA, United States
13598 Moreno Avenue
Lakeside
California
92040
US
San Vicente is a deep, steep-sided impounding reservoir on San Vicente Creek, approximately 25 miles northeast of San Diego. It currently has a depth of 306.00 feet when full. Water levels are monitored weekly.
The San Diego County Water Authority oversaw the construction of the San Vicente Dam Raise Project, which began in early 2009. The San Vicente Dam Raise Project is part of the Water Authority's more than $1 billion Emergency Storage Project, which is creating new emergency water storage and pipeline connections to deliver water throughout the region if our imported water supply is disrupted. Now complete the reservoir is be able to store an additional 152,000 acre-feet of water supply.
Park Hours
San Vicente will reopen on its summer schedule one half hour before sunrise to sunset as follows beginning September 22, 2016:
Thursday, Friday, Saturday and Sunday – Fishing, general boating and water contact (water-skiing, wakeboarding, jet skiing, etc.).
Monday – Fishing and general boating, no water contact activities.
Entry Fees
All Tickets for San Vicente are currently being sold through Ticketmaster.  Reservations go on sale every Thursday at 7 p.m. through Ticketmaster for the five (5) day period that is four (4) weeks out. Call (800) 745-3000 or visit the Ticketmaster website. One reservation per household on the first day of sale.  The first 24 hours each household will be allowed to purchase one option only.  No refunds on cancellations for over the limit purchases. Ticketmaster will issue physical tickets.
Ticketmaster will issue physical tickets.  See Permits and Fees for ticket types and prices.
Option 1:
General Boat launch = $7.
Availability: 110 each day of Thursdays through Sundays; 150 on Mondays.
This option for: private boats not participating in water contact activities.
Option 2:
Water Contact Boat launch= $7.
Availability: 40 each day of Thursdays through Sundays; 0 on Mondays.
This option for: 3 person PWC only (personal water craft); boats towing skiers, inflatables, wake-boards, knee-boards, tubes, and all other tow-able devices.
Option 3:
Car only=$8 (includes one (1) adult general access permit)
Availability: 50 available each day of Thursdays through Mondays.
For shore fishing, float tubes, kayaks; NO TRAILERS OR MOTORS!
Float tubes with oars or motors must have a general boat launch pass from Ticketmaster.  Maxium of five (5) people per ticket.
Seniors are 65+ at time of attendance, Adults are ages 16+ at time of attendance, youth are 8-15 at time of attendance, 7 and under are free and do not require a permit for entry.
Boats are either classified as fishing or water contact; there are no mixed boats. If a boat has the water contact launch, it is classified as a water contact boat and everyone on board must pay the water contact fees.  Maximum of five (5) people per ticket and two (2) vehicles with launch permits.  Vehicles entering with a tow vehicle must be in line together; vehicles arriving separately or at a later time than the tow vehicle will not be permitted to enter, even if the tow vehicle returns to the booth.
Physical tickets only accepted at gate.  No E-tickets, photocopies, screenshots, phone screens, proofs of purchase or printouts accepted.  Additional permits may only be purchased on day of entry at the gate, no advance permits will be sold.
There is no walking into the property permitted, even with a permit/ticket.  All persons (age 8 and older) entering reservoir property are required to pay daily use fees, including launch and per person fees, see Permits & Fees (daily).  All access to the property must be through the main gate located at 12375 Moreno Ave, Lakeside.
Maximum speed limit is 35 mph.
Kayaks: Kayaks are permitted Thursdays through Mondays with a vehicle pass or accompanying a towing vehicle. LAUNCH FEES ARE DIFFERENT AT SAN VICENTE FOR KAYAKS. Each person pays the $8 (adult) or $2.50 (youth) user fee, but there is no additional fee for launching the kayak. This would be option 3.
Boating & Rentals
| | | | | | |
| --- | --- | --- | --- | --- | --- |
| Type | # People (weight dependent) | Deposit | Minimum | Each Add'l Hour | All Day |
| Kayak | 2 max | $40 | $12/1 hour | $7 | $40 |
| Aluminum Fishing Boat 8HP | 3-4 max | $80 | $35/2 hours | $10 | $80 |
| Deluxe Fishing Boat 8HP | 4-5 max | $120 | $60/2 hours | $15 | $120 |
| Fishing Patio Deck Boat (25-40hp) | 8-10 max | $195 | $75/2 hours | $30 | $195 |
| Sun Cruiser Patio Deck Boat (25-40hp) | 10 max | $350 | $100/2 hours | $45 | $280 |
Services
Bait Shop
The bait shop will sell sundry items such as ice cream, ice, snack foods and drinks as well as bait and tackle.
Additional Information
DIRECTIONS
From Highway 67, go east on Vigilante Road, left on Moreno Avenue to the reservoir entrance.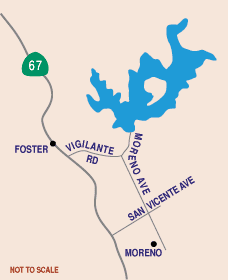 Boating & Rentals
| | | | | | |
| --- | --- | --- | --- | --- | --- |
| Type | # People (weight dependent) | Deposit | Minimum | Each Add'l Hour | All Day |
| Kayak | 2 max | $40 | $12/1 hour | $7 | $40 |
| Aluminum Fishing Boat 8HP | 3-4 max | $80 | $35/2 hours | $10 | $80 |
| Deluxe Fishing Boat 8HP | 4-5 max | $120 | $60/2 hours | $15 | $120 |
| Fishing Patio Deck Boat (25-40hp) | 8-10 max | $195 | $75/2 hours | $30 | $195 |
| Sun Cruiser Patio Deck Boat (25-40hp) | 10 max | $350 | $100/2 hours | $45 | $280 |